It was a great team effort. But for quarterback Matt Hasselbeck, stepping in for an injured Andrew Luck and starting in his first NFL game since 2012, it was a day that turned out to be pretty special.
"I didn't think it was that special beforehand," Hasselbeck said. "I just approached it like I approach every game, really. But, when I was coming off the field after the game, just the reception I got from Colts fans. I don't know, it kind of gave me goose bumps and I got a little choked up. It was almost embarrassing. But it was a really cool moment and I was very appreciative."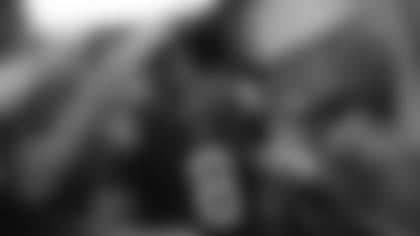 For kicker Adam Vinatieri, a 54-yard field goal in the first quarter marked his 997th career point, the most by any Colts player in history.
"It's an honor, definitely. It means you've been around for a long time. I've been a part of, going on ten years now, an amazing team. This team has been very successful for all those years," said Vinatieri. "It gives me lots of opportunities to step on the field and have an opportunity to help the team win."
At 40 and 42 years old respectively, Hasselbeck and Vinatieri are still helping their team win. On and the field and off, they're loved and respected figures in the Colts locker room, a locker room made up of players half their age.
When Vinatieri came into the NFL in 1996 and Hasselbeck in 1998, offensive lineman Jack Mewhort was just starting school.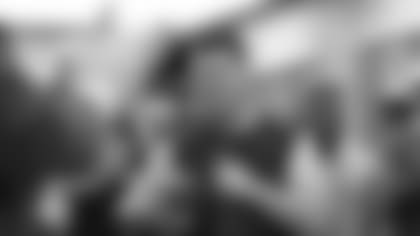 "In '96 I was six years old. I think I was in Mrs. Thomason's class at Central Elementary in first grade in Sylvania, Ohio," Mewhort said. "I think I had Mrs. Lavalette at Central Elementary when I was eight years old in third grade. So, good times."
Still, he can remember knowing exactly who his future teammates were, even back then.
"I always played the football video games, so I remember Adam. I've known who he is for a million years. And same with Matt."
Mewhort said he was a Seahawks fan growing up. And in a strange foreshadowing of his life, he went to the Super Bowl in Detroit, the one Hasselbeck played in for Seattle against the Pittsburgh Steelers.
"I went with my dad and the Rolling Stones performed at halftime. It's just weird how things come full circle and I'm playing on a team with him now, winning games with him."
Tight end Coby Fleener was around the same age as Mewhort when Hasselbeck entered the league.
"I would have been eight years old, approximately," he said. "I wasn't a huge football fan growing up, but I do remember an image of Matt in a Seahawks uniform."
He may not have been a fan back then, but today, Coby Fleener is a huge fan of Matt Hasselbeck, calling him a mentor, a leader, and a beloved guy in the locker room.
And to be on the field with him on Sunday?
"It was hugely fun. To be even a little part of it was awesome. I think everybody on our team was cheering for him sometimes even more so than the team."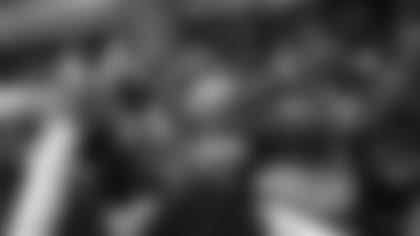 Another Colts veteran, linebacker Robert Mathis, was cheering right alongside his teammates, for both Hasselbeck and Vinatieri. And for good reason.
"Well, considering they're pretty much my generation, I'm happy to see it. I'm their biggest fan. They're the ultimate professionals. Every day they come in, dialed in, do what they're supposed to do, and reap the benefits of the labor," he said.
Whatever they're doing, Matt Hasselbeck and Adam Vinatieri need to keep it up – because it's working for them.
Cornerback Darius Butler thinks he knows what "it" is.
"You can tell that the game keeps them young. Because you'll never know just by being around them, how old they are. Besides Adam's couple grey hairs."
Young enough to play the game they love and old enough to appreciate it.
Matt Hasselbeck and Adam Vinatieri are winning.