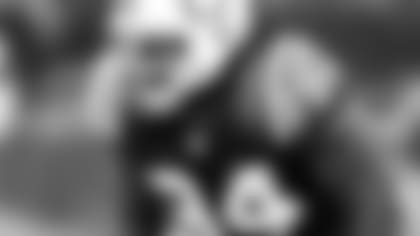 INDIANAPOLIS** – Rookie seasons in the NFL are challenging on many fronts, one of the chief being adapting to an elevated level of play.
Defensive tackle Drake Nevis was selected by Indianapolis in the third round of last year's draft, the 87th player taken overall.
Nevis appeared in 45 games, 18 as a starter, at LSU.  It meant that he competed in one of the nation's foremost conferences, and it was as good of a preparation ground as a collegian can get.
Nevis worked through training camp and played in the first four games as a reserve on a defensive line that typically rotated into action eight to nine players a game.  He hurt his back in the fourth game at Tampa Bay, an injury that allowed him to participate in only one more game.
For Nevis, it was the first time he ever missed extended action while hurt, and it meant his maturation would not come as much on the field as he had wished originally.
"I never lost a season of play before in my career.  That was the first time for me," said Nevis.  "It was a growing experience.  I grew up a lot as a person, and it made me cherish every day, every practice, every practice repetition even more.  I now will approach everything like it will be my last time to do it, and that is the biggest thing I learned from last season.
"You never want to miss playing time, and I missed a big part of my rookie season.  It was very difficult to have football out of my life temporarily."
Orientations for younger players in the league come in some part through teammate support groups.  Nevis had no shortage of veteran help to seek, and the team's spirit of inclusion about bringing along younger players benefited Nevis.
"The veterans like Dwight Freeney, Robert Mathis, Antonio Johnson and Eric Foster, even Tommie Harris in training camp, taught me a great deal about the game on and off the field," said Nevis.  "They helped me with my film study, and that was important because it was almost all I got from last season.  They helped teach me about the lifestyle away from the game, too.  They were good mentors in a year of my life that was new to me."
Nevis, 6-1, 294, has good size for the game.  Physically, he feels was able to adjust a little bit better than he was for the technical approach for the game.  It is an admission many young players make, and he knows the value to off-the-field preparation.
"Physically, I thought the adjustment to the NFL was easier than the mental part of it.  The mental part was a much bigger challenge," said Nevis.  "You are facing quarterbacks every week who are students of the game.  They watch so much film in preparation that if they sense you have a weakness, they will audible to a quick pass or a draw to take advantage of it.  If they know your tendencies, they will make you pay for it.
"It's more important to be mentally strong than physically strong because everyone lifts weights and runs fast.  The thing that separates players in this league is mental toughness.  I learned that last year, and I listened to the guys around me who had gone through that before I did.  I was playing with guys like Dwight and Robert who have a bunch of Pro Bowls together.  You look at their record and accomplishments, so their advice meant a great deal to me.  I just asked them a bunch of questions and kept my ears open."
Nevis had 19 tackles in his five appearances, and he defensed one pass.  He had four solo stops in his debut at Houston and followed with six stops against Cleveland.  He had three tackles in each of his remaining games, the last being in November against Jacksonville.  Never able to get back to full health, Nevis spent the last four games on injured reserve.
While he saw improvements in his play, the inaction caused teammates to have to take a bigger in-week practice load.  It was something Nevis hated for his teammates' sake.
"I was blessed to have five games under my belt with competition at this level," said Nevis.  "I was able to practice a lot more than that during the season, and I could see I was getting better.  I felt I was getting better and was learning tricks of the trade.
"I knew my absence hurt the guys during the week and on Sundays.  During the week, being hurt meant more reps for the guys in practice, and that is something you hated to have happen to your teammates in a physical sport.  I like being a team player, and I hated not being able to take my part in the action.  I never have been in that position before, and I hope I never go through it again."
In addition to his teammates' support, Nevis leaned on teachings learned as a youth, and he is anxious to write a different story for his second season.
"My faith brought me to where I am today.  I learned the trials you face in life will make you stronger," said Nevis.  "I get my strength through my faith, and it helped me through some bad days last year.  I grew up in a good church in Louisiana, and I have applied those teachings to my life.  I leaned on it last year, and it helped bring me through.
"I am a smarter player now.  I have had practice, but I have taken a bunch of mental reps, too.  I've gotten better mentally, and you really have to pay attention to the details in practice and film study.  I was improving, and I hope to show that this season.  I am definitely excited about the changes and opportunity to compete again.  I never took the chance to play football for granted.  I had it taken away last year, so I am eager to use what I learned as a rookie to help me this year.  I am blessed to be around a team like this."