INDIANAPOLIS — The Indianapolis Colts find themselves in a good spot financially with the new league year and the start of free agency approaching on March 13.
According to the NFL Player's Association, the Colts have the second-most cap room in the league carrying over in 2019. Partly because of that, it makes Indianapolis the popular destination for people to link the team to some of the league's biggest free-agent names.
However, just because the two sides fit monetarily, that's not the only criteria in which the Colts approach free agency. We always hear general manager Chris Ballard and head coach Frank Reich stress that new players must fit into the Colts' locker room and be a good fit for the culture that they are building. Talent and track record only means so much when it comes to player acquisition.
It's also important to remember that any of these players can still be tagged by their current team with the exclusive or non-exclusive franchise tag, or the transition tag, or they can be re-signed altogether. These are just hypothetical "what if?" scenarios.
DE DEMARCUS LAWRENCE, DALLAS COWBOYS
First up is the top edge rusher available and the man nicknamed "Tank" — Dallas Cowboys defensive end DeMarcus Lawrence. Teams almost never let elite pass rushers leave the building, but we'll play along. Per PFF:
"The Colts have more money to spend than any other franchise this offseason, meaning they can afford to play a little loose with their pocketbook to add talent. Lawrence certainly qualifies as that with back to back 88-plus overall graded seasons."
The five-year veteran had a breakout campaign in 2017 by finishing third in the NFL in sacks with 14.5. He followed that up in 2018 with another 10.5 sacks and career highs in tackles (64) and tackles for loss (15). Lawrence also filled-out the stat sheet by compiling 23 quarterback hits, two forced fumbles, one recovered, an interception and one pass breakup. PFF ranked Lawrence tied for seventh among all edge defenders with a grade of 89.5, totaling 63 pressures (sacks, hits and hurries combined).
The Colts had a respectable pass rush last year, tying for 19th in the league with their 38 sacks — their most since 2014 — but pass rush is an area in which you can never have enough. Good teams never stop trying to improve in that area, and that's where Lawrence would come into play for the Colts.
Indy hasn't had a true top edge rusher since the twilight of current Colts pass rush specialist Robert Mathis' playing career, and Lawrence would fill that hole. Throwing him into the mix with Jabaal Sheard, Denico Autry and 2018 NFL Draft picks Kemoko Turay and Tyquan Lewis would hypothetically give the Colts a huge boost in the quarterback harassment department.
DT NDAMUKONG SUH, LOS ANGELES RAMS
Suh has sustained a high level of play for nine years now, both as a run stopper and an interior pass rusher. He lined up with NFL Defensive Player of the Year, Aaron Donald, for the Los Angeles Rams in 2018 and aided them in making it to the Super Bowl. Per PFF:
"Will Chris Ballard finally splurge on a 'win now' sort of move? With a playoff roster and $107 million in cap space, it would almost be irresponsible not to make one or two such plays this offseason."
Like PFF author Mike Renner points out, this would be a "win now" move by the Colts, who now aim to take the next step after appearing in the Divisional Round of the playoffs. At 32 years old, Suh is older than the free agents the Colts typically covet and is historically expensive. The three contracts that Suh has signed in his career have combined for more than $97 million just in guarantees, according to Over The Cap.
Regardless, any team that signs Suh is getting an enforcer in the middle of its defense. He could give the Colts' interior a violent, disruptive presence at tackle, as he averages 53.4 tackles (11.9 for loss) and 6.2 sacks per season.
WR GOLDEN TATE, PHILADELPHIA EAGLES
Golden Tate is a name many Colts fans are already familiar with, from his collegiate days at Notre Dame to his Super Bowl win with the Seattle Seahawks in 2014. Per PFF:
"Tate is at his best in a quick-timing offense that the Colts switched to last season. He'd give them something the Colts didn't have last season: a viable number two."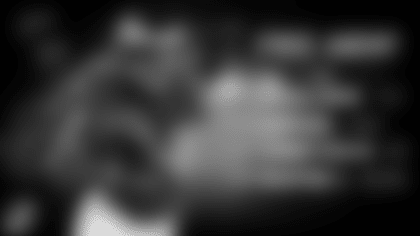 The Colts must evaluate what they are going to do about the wide receiver position because Ryan Grant, Dontrelle Inman, Marcus Johnson and Chester Rogers are impending free agents, and rookies Deon Cain and Daurice Fountain were only able to play a total of three combined offensive snaps during the regular season in 2018. The position could use fortification and further competition going into training camp, and that may come in free agency.
Someone like Tate would absolutely take pressure off of the Colts' top receiver, T.Y. Hilton. Tate has experience being his own team's top receiver for much of his career, as he led his teams in receptions between 2013-17 as well as targets each year except 2015.
Tate's stint with the Detroit Lions between 2014-17 was the most prolific of his career, as he averaged 93 receptions (132 targets) for 1,056 yards (11.4 avg) and five touchdowns per season. He was traded by the Lions to the Philadelphia Eagles at the 2018 season's trade deadline.