Former Colts cornerback Marlin Jackson grew up in Sharon, Pennsylvania. It was a childhood overshadowed by drugs, violence, and neglect.
He sought out the adult influence he was lacking at home and used his athletic ability to clear a path for himself out of the projects and into college. When he made it to the NFL, he went back for the kids left behind. And he's been doing it ever since.
On Thursday, December 14th before the Colts played the Denver Broncos, Jackson walked onto the field at Lucas Oil Stadium with 44 sixth graders from Musser Elementary, the same school he attended growing up. The kids looked around taking in the sights and sounds of game day. For many of them, it was their first trip outside of Pennsylvania.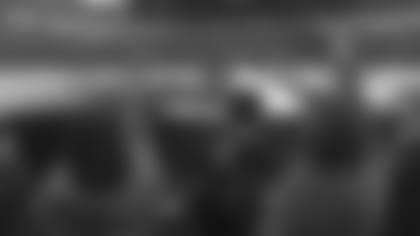 "The goal of the trip and the objective is to expand their view of the world because it's been limited to what they see on a day-to-day basis in the neighborhood in which we come from – drugs and violence, depleted neighborhoods, broken down buildings – and exposing them to professionals," Jackson says. "And that's what we do on the trip from the very beginning."
It's something he's been doing since his second year in the league.
"It started off when I was playing, they came to watch me play and we went to dinner and then they went back."
It's expanded into an entire weekend that includes a Colts game, a meeting at Salesforce, pampering at Paul Mitchell Salon, dinner at Sullivan's Steakhouse, Christmas shopping, and recreational activities at Incrediplex.
Rachelle Garm is a sixth grade teacher at Musser. She's been involved with the program since the beginning.
"We needed a character program in our building so badly for these kids. There are a lot of things that they don't know that we just assumed that they do know on how to treat others and how to act in society and how to treat members of your family. And when he came to us with the program, we were like, 'It can't get better than this.'"
Only, it has – every year.
"I just like to watch them. I like to watch them see things that I know they've never seen before. Even if they don't say it out loud, you can tell by the look on their faces," she says. "It's life changing."
"They have to complete homework, they have to not have a referral to the office, they have to treat each other with respect," Garm says. "And we have kids that don't make it. It's heartbreaking."
And so are the stories of many of the kids who make it.
"I always finish the last night with a life discussion sharing my experience and what I've learned because most of them are going through the same things that I went through – maybe not having a father figure, maybe their parent is battling addiction and they're living with it," says Jackson. "We cry together that night. Me sharing my story with them and tearing up, about 10 or so kids, they start tearing up and crying as well."
Marlin Jackson made his mark in Indianapolis during the 2006 season when he intercepted Tom Brady in the AFC Championship, sealing the game for the Colts and sending them on to Super Bowl XLI victory.
For Jackson, it was a moment.
What he's done since is a calling.
He set up his Fight for Life Foundation and built programming around social emotional learning and helping kids set themselves up for successful lives – no matter what circumstances they're surrounded by.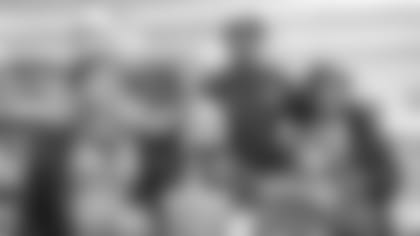 "Professional football is entertainment," he says. "But when I think about the struggle of kids and the struggle of people, that connects with me on a far deeper level and it tugs at my heart. That's what I'm supposed to give my time, effort, and energy to."
And that's what he's doing today.
"I love sports. But it's a hobby to me now. This is more important to me," he says. "I dream about this. This is what I wake up and do every day. I'm strategizing on how to get this done and build out the business side so this is sustainable."
For Marlin Jackson, football wasn't the dream – football was what fueled the dream.
"It was a gradual process of releasing that, but once I did – I feel like in doing this, I lost myself in the work and found myself at the same time."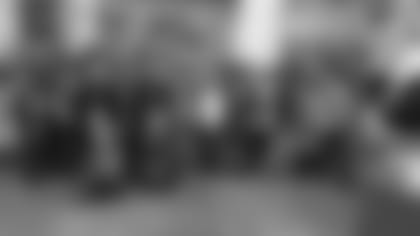 "The Catch" made Marlin Jackson a household name.
Today, he's helping kids make plays in the game of life.
And that's something he'll do for the rest of his life.