 ](http://www.careyindiana.com)
INDIANAPOLIS – First-year coordinator Pep Hamilton put the Colts' new offense on display Sunday and Indianapolis' top two quarterbacks operated it adeptly in the team's preseason opener at Lucas Oil Stadium.
However, Buffalo's Marquise Goodwin provided the day's biggest play in front of a sun-bathed crowd that enjoyed open-roof conditions at the stadium. Goodwin's 107-yard kickoff return in the second quarter tied the game, and the Bills used his electrifying touchdown to catapult them to a 44-20 victory.
Indy quarterback Andrew Luck completed 4-of-6 passes for 51 yards before taking a seat after two first-quarter series. Matt Hasselbeck took over and hit 4-of-8 passes for 75 yards, with one touchdown and one interception. The TD connection was a 45-yarder to T.Y. Hilton, whose diving catch was a thing of beauty that led to an early 10-3 lead for the Colts.
 "What a wonderful ball to T.Y.," Luck said after the game when asked about Hasselbeck's contributions. "You can tell: (Hasselbeck) knows football. He knows situations. He knows how to move the ball. He's been a great addition."
As for Luck's own performance, it was more difficult to assess in light of the limited playing time.
"I think you try to take a critical eye to when you were in the game," Luck said. "I obviously wish we could have scored some points and had a little longer drive, but I definitely think there's a lot to take away from this."
Chandler Harnish moved in as Colts quarterback early in the second quarter and finished the game.  He completed 14-of-33 passes for 109 yards with an interception.
The huge kickoff return by Goodwin seemed to lift the Bills in all phases of the game, and their defense made it especially hard on Harnish and the other Indy reserves.
"You're not going to win any football games, or give yourself a chance to win any football games,  by giving up big plays on special teams," Colts Coach Chuck Pagano said.
Buffalo rookie quarterback EJ Manuel produced a strong first half, hitting 16-of-21 passes for 107 yards and a touchdown in the final seconds of the second quarter. The TD, a 17-yarder to Dorin Dickerson, came at the end of a drive on which Manuel went 9-for-9 for 68 yards. It provided his club with a seven-point lead at halftime.
The Colts defense tried to keep the game interesting late when Caesar Rayford slammed into Buffalo quarterback Jeff Tuel as the latter attempted a fourth-quarter pass. The ball popped loose and Daxton Swanson carried the fumble 72 yards for a touchdown, slicing Buffalo's lead to 10 points.
But the Bills put the game away with two more touchdowns, one from the offense and one from the defense. The one-sided nature of the final score left the Colts with plenty to work on when they return for the final week of training camp at Anderson University. The Bills had 27 first downs to the Colts' 14 and a possession time advantage of 34:11 to 25:49.
"That's not what we came in here to do today, obviously," Pagano said. "Like I told the guys, it's never as bad as you think it is and it's never as good as you think it is. Somewhere in between is where reality lies."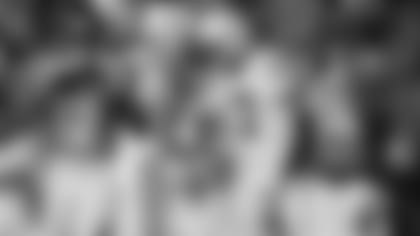 news
'Perfect Night' For Chase McLaughlin, Kicking Unit, Boosts Colts To Second Win
The Indianapolis Colts needed every bit of Chase McLaughlin's four field goals to go on the road and defeat the Denver Broncos, 12-9, in overtime on Thursday night.