 INDIANAPOLIS – Three Colts quarterbacks teamed to direct the offense over 15 possessions Sunday against Buffalo.
Andrew Luck opened the game's first two offensive drives before giving way to 15-year veteran Matt Hasselbeck for three possessions.  Chandler Harnish directed the final 10 drives over the game's last 41 minutes as the Colts fell to Buffalo at home, 44-20.
There were moments of achievement for each but like teammates roster-wide, there are things on which to improve as the Colts proceed in preseason play.
Luck was four-of-six for 51 yards while working with the first-unit performers in his time on the field.
Luck zipped the Colts to a first down in two plays, the first of which was a smooth completion to Reggie Wayne.  On his only third-down pass of the day, he misfired to Wayne to end a first possession.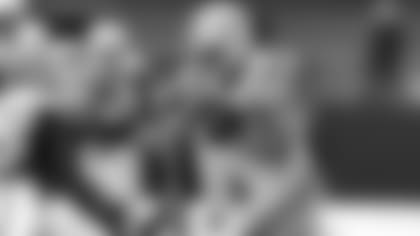 Moments later after a 14-yard completion to Coby Fleener, Luck had a cadence malfunction that allowed Buffalo's Mario Williams zoom in for a sack past Anthony Castonzo.
"The sack was my fault.  It was a cadence mishap. (Anthony) Castonzo is (ticked) at me (laughs)," said Luck.  "He said 'Do you want to get hurt, Andrew?'  I told him I'd publicly take that one on me.  He's in the clear for that."
Operating out of varied sets that included an extra tackle to make up for the absence of the injured tight end Dwayne Allen, a backfield with a fullback and later multiple-receiver sets, Luck moved the Colts toward a score.
A 24-yard completion to Fleener ended with a strip-fumble, and Luck's day was finished.  He took a wide view of the effort beyond his performance.
"I think you look, especially the offense as a whole, you start to get a feel again for maybe what Pep (Hamilton) is going to call in certain situations and put yourself in that situation," said Luck.  "I think you try to take a critical eye to when you were in the game.
"Obviously, wish we could have scored some points and had a little longer drive, but I think there's definitely a lot to take away from the game."
Hasselbeck entered seconds later when Indianapolis recovered a Buffalo fumble.  Playing with the starting line for one series, he had a near scoring pass defended at the last second on a throw to Fleener on the end line.
Indianapolis got a field goal from the possession for a 3-0 lead.
Hasselbeck took the field for the last 1:39 of the opening quarter and ended it in grand fashion with a 45-yard scoring pass to a diving T.Y. Hilton.
Hasselbeck's final possession was marred by a tipped ball that was intercepted and led to a Buffalo field goal.  Still, the seasoned veteran, who hit four-of-eight passes for 75 yards, made an impression.
"His confidence and his ability to understand the situation from a veteran's perspective is helpful to all of us," said Fleener.  "Going out there, you're confident he's going to see things a young quarterback is not going to see."
Harnish played the final 10 possessions.  The first one produced a field goal after a 34-yard march that included a third-down scramble for a conversion and three completions.
Harnish played the rest of the way and was hindered by poor drive-starting field position.  Eight of his 10 drives started at or inside his 21-yard line, with five of those starting at or inside his 13.
Harnish, who had five games on the active roster last year without playing, benefited from the exposure but had the critical eye of a competitor.
"Definitely a frustrating day," said Harnish.  "We just didn't get going as an offense, and we left some plays out on the field that we could have capitalized.  It's frustrating but at the same time, we need to learn from it, go back into training camp with a positive attitude.
"I was getting great feedback every time I came off the field from Andrew and Matt.  They were both telling me what coverages we were seeing and fronts and just different notes to be looking for.  They were great."
Harnish, who hit 14-of-33 passes for 109 yards and an interception with a fluctuating lineup, knows the value of exposure as the organization decides the roster composition for the season.
"Huge.  It's my Super Bowl," said Harnish of preseason work.  "I need to go out and perform like it's my last game every single afternoon.  This is a tough one to take on the chin, but sometimes you have your bad days and you need to learn from it and see what you can do better next time.
"I took some hits, but nothing out of the ordinary and nothing I can't pop back from."