 ](http://www.careyindiana.com)
INDIANAPOLIS –Last season, Jerrell Freeman became the first-ever player from Mary Hardin-Baylor to make the NFL.
Last weekend, he became one of its many graduates.  Which accomplishment meant the most at home?
Freeman is certain which accomplishment carries the most weight because of the loving, firm way his mother, Angela, raised him with her husband, Jimmy, in Waco, Texas.
"My mom wasn't really big into sports and football at all," said Freeman, who graduated last weekend with a degree in criminal justice.  "She was big into education and made sure I had a proper one.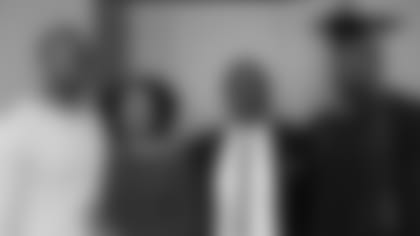 "That was big in our house, and she wanted my brother and me to have a solid foundation.  When I came home, she helped me do all my homework.  She helped on the projects we were assigned.  She made sure I stayed on top of everything related to school."
Freeman and his brother, Jimmy, had an upbringing straight from Main Street.  Their father worked for the city of Waco, while their mother was a nurse, a vocation she practices today.
Freeman is more than pleased to honor his mom on Mother's Day, and last weekend was a significant way to repay a person who shaped him the most.
"My parents have been together for 33 years, and my mom definitely is the rock in the family," said Freeman.  "As we were growing up before she left for work, she made sure everything was done.  She always had dinner cooked later on, and my dad was a pretty good cook, too.  It definitely was a loving home, a double-parent home.  I am grateful for that, and the many years they have been together.
"As she shaped us, education was a top priority, and my greatest Mother's Day gift was to graduate.  I'm just trying to make her proud, that's the biggest thing to me."
Structure was prevalent in the Freeman household.  Chores were handed out, and there was no room to negotiate.  One was homework, and Angela was the boss.
"There were plenty of times she was a big disciplinarian (laughs), especially with school.  It always was for my own good," said Freeman.  "When I'd come home and do my homework, she had this infamous red pen.  I'd do it and give it to her, and it hurt when I saw all the red ink.  I knew I had more work to do."
Like most growing children, matters of discipline, while necessary, were not for harsh reasons.  It was a part of growing up and while a spanking hurt, it did not cut as much as another method Angela employed.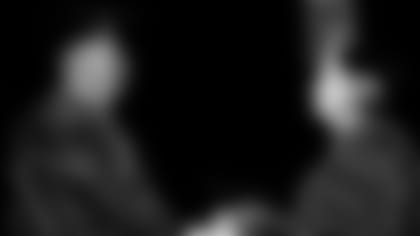 "There's a look my mom can give, and it's probably worse than any paddling I ever got," said Freeman.  "You get the look and you're like, 'Awww, man.'  You're struck deep.  Everyone who knows my mom knows that look."
Freeman left school a few hours shy of his degree.  A tryout with Tennessee did not last long, so Freeman took his talents to the CFL.
Three very productive seasons there landed him in Indianapolis last year, where Freeman topped the team with 203 tackles.  It was the highest total awarded by Colts coaches in the club's Indianapolis era.
Being coachable on the field means a number of people had a hand in Freeman's development.  While coaches played a key role, so did mom – firmly and with dedication.
"She bent over backwards to do everything she could for me," said Freeman.  "She got me everything I needed.  I probably have the best parents, but I definitely have the best mother of all-time.
"I was brought up the right way.  Even though I'm in football, she's still worried about me.  It's part of her job, I guess.  She stayed on me all these years to be the best I could be."
Part of Angela's insistence was finishing what Freeman started at Mary Hardin-Baylor.  Being the first NFL player from the school paled to the importance of joining the ranks of many graduates.
"I know the significance last weekend held for her.  I was glad to finish my degree and walk in the graduation," said Freeman.  "She'd probably whup me if I didn't graduate.  She means everything to me.  Mom, Happy Mother's Day."