INDIANAPOLIS – Brad Hettmansperger had seen the Colts up close before.
When Hettmansperger was an elementary-aged boy, his mother would take he and his brother down the road to the Indiana Farm Bureau Football Center.
The closest Hettmansperger was going to get to his favorite team was pressing his face up to the front lobby windows and taking a look at the Colts memorabilia inside.
His fandom came full circle on Sunday afternoon when Hettmansperger took in the Colts 27-24 victory over the Broncos.
"I was sort of in amazement being on the field and here's all these favorite players of mine warming up in front of me. (Then) I wasn't expecting the seats to be actually on the field," Hettmansperger said.
Joined by his girlfriend, Emily, Hettmansperger's all expenses paid trip started early Sunday morning when the pair flew from their current home in Charlotte.
Arriving in Indianapolis on Sunday morning, Hettmansperger met up with his father and brother who still call Indiana home.
After growing up a few hundred yards from the Colts Complex, Hettmansperger's family moved overseas before his 10th birthday.
Keeping up with the Colts was a tad difficult across the pond.
When his family relocated back to the United States (Cincinnati), Hettmansperger's affinity for the Colts resorted to religiously listening to Bob Lamey because Bengals games usually occupied the television slot each Sunday.
"I've never lost my love for the Colts," Hettmansperger said of his fandom, despite the moves.

"Through everything, the (Colts) ups and downs and everything, they've always been my favorite team."
Now, in Charlotte, Hettmansperger is able to catch the occasional Colts game but his trip to Lucas Oil Stadium marked his first attended game since 1999.
"At first, I thought I had been dreaming. I didn't know what to say," Hettmansperger said when he received the call from the Colts of winning the trip.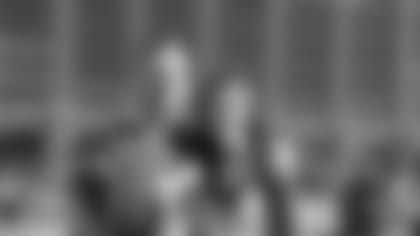 Hettmansperger doesn't consider himself someone who typically wins contests, so the initial state of shock took some time to wear off.
Once game day arrived, the shock was back, especially when he stepped foot inside of Lucas Oil Stadium.
"It's like a temple to the football gods," Hettmansperger said of the Colts home.

"I was having a blast. The whole experience was amazing."
Taking in the Colts most impressive victory of the season, just steps from the playing field, was certainly the highlight for Hettmansperger.
A pre-game high-five from Darius Butler had a little extra meaning when the Colts cornerback later hauled in the game-clinching interception.
Looking back on his trip home, Hettmansperger is at a loss for words trying to sum up a weekend he will never forget.
"It all seemed like a whirlwind," Hettmansperger said. "It was the trip of a lifetime. I can't put any kind of value on it. It was a dream come true.

"I want to be sure to thank the Colts and DIRECTV, because they made a guy's dream come true and it couldn't have been better."
DIRECTV is presenting the Launch to Lucas Oil Stadium promotion to give Colts fans who live out of state the opportunity to come see their favorite team in person at Lucas Oil Stadium. They are promoting two games – November 8th and December 20th. Fans can still sign up to win a chance to see the December 20th game. Link to register is colts.com/directv. The winner will receive round trip airfare for two, hotel accommodations, two pre-game sideline passes, two game tickets, supplemental cash, an autographed Andrew Luck jersey and football.