 ](http://careyindiana.com)
INDIANAPOLIS – Clyde Christensen and D'Qwell Jackson are united as Colts today but before ever meeting, they shared same experiences in the last couple of years that affected them in a profound way.
It is the same tie that Adam Vinatieri had since he was a baby in Germany, the first of three children of Paul and Judy Vinatieri.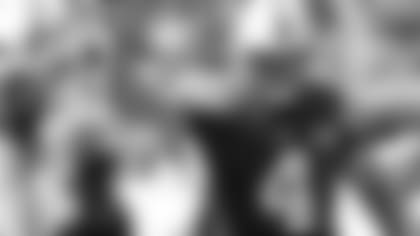 Adam was in Germany because his father was serving in the military, a pattern of service that extends generationally in the Vinatieri family.
Adam's great, great grandfather, Felix, was the chief musician in the US 7th Cavalry under General George Custer.  Paul was a communications specialist in the Army in the 1970s, and his youngest son, Beau (now home from Afghanistan), joined the ROTC out of college and reached the same captain rank as his father.
Jackson was part of a 2012 NFL junket to bases in Afghanistan, while Christensen last year toured military sites in Italy, Germany, the United Arab Emirates, Spain and Afghanistan.
While Vinatieri had family members in action, Jackson and Christensen witnessed service members on duty.
All three Colts have insights formed from experience, and they join all Colts personnel in honoring Memorial Day.
"Our Armed Forces and the people who defend our country – past, present and future – are so special," said Vinatieri.  "The freedoms we have and the ability to live our lives without fear came with a price in the past, and it continues even to this day.
"We have a standard of living like no other nation, and it's because of the protection, dedication and sacrifice of people who have served and are serving.  Many people paid the ultimate sacrifice for our nation."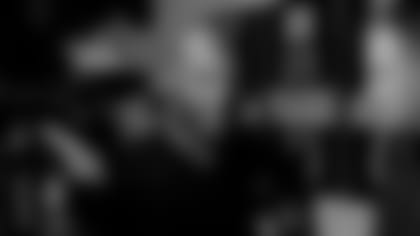 In preparation for visiting the military bases, Jackson reviewed paperwork covering the potential hazards of the trip.  He thought he had read the document from cover-to-cover.
"The first day we got there, I must have read over one portion of it," said Jackson.  "We're on the bus and were asked if we were briefed in case of missile attack.  I thought, 'I must have overlooked this one.'
"There were different barracks set up around the base where if a siren went off, it meant we were under attack.  It actually happened one of the days we were there.  A missile was actually launched at the camp.  Thank goodness it missed, but it definitely was an experience."
Christensen toured areas as a guest of Admiral James Winnefeld, an acquaintance who was the ninth vice chairman of the Joint Chiefs of Staff.
In traveling 27,000 miles on the tour, Christensen saw every age group possible, from "65-year old generals to 19-year old women soldiers and everything in between."
"You saw how well everyone functions as a team," said Christensen.  "The leadership is tremendous, from the nuclear engineer all the way down to the enlistee.  They all have a role.  They're all formed into a team quickly and efficiently.
"Their youth and ability to function as a team jumped out at me.  Their egos are small, whether you're a Navy SEAL or a cook.  They treated each other as equals, which was neat.  There were a lot of people making sacrifices.  There were great examples of leadership.  You realized how far from home our soldiers are, how rugged the living conditions are."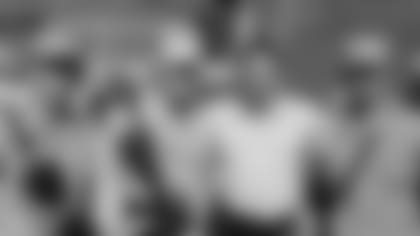 Christensen and Vinatieri were participants in the club's visit to the Walter Reed Medical Center in Washington in April of 2007.
It was another reminder of the price military individuals have paid for years, and it brings to perspective for them and Jackson what a special occasion Memorial Day is.
"This is something we should pause and reflect on every day, with every step we take and for the liberties men and women have fought to provide us," said Vinatieri.  "If you don't do that any other day, I hope you do it on Memorial Day.  If you see someone in the military, let them know you are aware of the price they pay for all of us."
Said Jackson, "Being around those troops a week, it changes you in many ways.  Where do you start?  Just sleep.  Just start with sleep.  When you get back to the States, you can sleep.  There aren't sirens going off where you're running for your life.  You don't hear gunfire.  You take sleep for granted.  Those troops over there get used to sleeping, but how well?  It's a 24-hour job.
"I always had respect for a person in uniform, but it's a newfound one now.  Every time I see a service member somewhere, I speak to them or I want to and say, 'Thank you.'  Being in that environment gives you a different perspective of how hard they have it.  They kept us out of harm's way, and we didn't really see the grit of it.  Also, they're kids.  I honestly couldn't do it."
"We all saw outstanding cases of human spirit and patriotism," said Christensen.  "There's patriotism and something in them that they just have a duty to do, and they do it.  They have a resolve to get things done.
"All of us who enjoy our liberty need to take note of those serving today, thank them for their service and pray for their safety.  Even more, we must pause and honor those who went before them.  There have been so many occasions of valor that built this nation.  We owe our greatest thanks for those who paid the most expensive price for us."