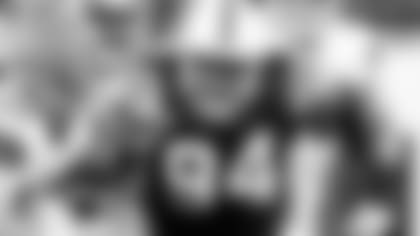 INDIANAPOLIS – At LSU, Drake Nevis played in the nation's toughest conference and he did so at a high level.
Nevis appeared in 45 career games and never had lost playing time to injury.
Drafted 87th overall and in the third round in 2011, Nevis was credited for his physical tools and high motor as he joined the Colts.
His first two seasons have not gone as planned.  A back injury cost him 11 games as a rookie, and a wrist injury in 2012 limited him to nine appearances, three of which he started.
Now, he is shooting for a healthy third season.
"Year three has come way faster than what I expected.  It's like time is just rolling by," said Nevis.  "My first year was going from college to the combine to getting drafted and going to camp.  It went fast.  Last year was coming back from an injury and maturing physically.  Now, it's almost February and I'm heading into my third year.  It's hard to believe how quickly time has gone by.  It seems like the time in my pro career has gone by faster than my years in college."
Nevis was like most Colts last year, trying to learn a 3-4 scheme installed by Chuck Pagano.
Like others, he adapted as quickly as possible.  Nevis says he was helped by Brandon McKinney and Cory Redding, who played in the system in Baltimore.  Antonio Johnson also assisted and Nevis felt he was hitting his stride.
He appeared in the first nine games, starting games five through seven, but the injury soon halted progress.
"It (the injury) was challenging for me because I thought I was helping the team out," said Nevis, who totaled 20 tackles and had a career-first sack at Tennessee.  "You were hanging with the guys through practice and games, and you were working with a new coaching staff.   I was getting (in the groove).
"I thought I was getting more comfortable and doing my job, and that's why the injury was frustrating.  You really miss what was going on."
Nevis was like many young players who matured past a rookie season in getting acclimated to the league.  Fili Moala made that transition, and he sees real opportunity for Nevis.
"Drake is eager, he pays attention and has great character and mental toughness," said Moala.  "He is very resourceful and is always looking for an edge.  His natural ability is outstanding, and it helps him make plays.
"I think Drake is at his best when you turn him loose.  He has proven he can make plays.  All he has to do is get healthy.  He'll be ready to contribute.  If there is anyone who can deal with the disappointment of being injured, it's Drake."
Nevis feels the physical maturation from collegiate days, and believes he is evolving into the type of player the team is seeking.
"I have more 'grown man' strength, I would say.  The older you get, the stronger you get.  You feel stronger as a person," said Nevis.  "The mental part is a bigger process, too.  It takes a lot of mental work, and it was even more last year with a new system.  It was not a natural system for me, so I had to get conditioned.  It's a system where you can't freelance.  I think by following the scheme, I can have an impact."
Moala sees the motor that runs inside his teammate.
"It runs real high.  I'd say it runs about four grand.  He's a high-rpm guy," said Moala.  "Drake has high energy.  He's great to have in the locker room, and he's getting better all the time.
"Drake is a tough competitor, and he has years ahead of him.   He can bounce back from his past two years."
Nevis enjoyed seeing young teammates make significant contributions, and it is something which he believes he can add, too.
"I enjoyed seeing how close the guys were, how they played together and how they never gave up," said Nevis.  "You saw young guys like Vick Ballard helped close the deal.
"I feel the game is slowing down.  I was brought here for a reason, and I want to make sure I can contribute, too."