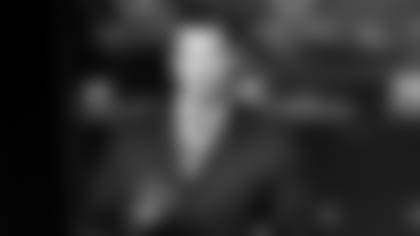 INDIANAPOLIS – Ryan Grigson and Chuck Pagano have been studying all Colts-related matters for the past month that they have been paired as general manager and head coach.
On Thursday, they moved operations to the Combine, an evaluation process involving 300-plus collegiate prospects that extends into next week.
Indianapolis is armed with seven selections in the April draft, including the first overall pick and the first choice in rounds three, five and seven.  The Colts will select second in rounds two, four and six.
Major evaluations beyond the draft are on-going, too.  The club has a number of veteran free agents and players rebounding from injuries.  Also, there are long-tenured veterans who are pondering their next moves.
Delicate and difficult decisions face the club, and it is an exciting and challenging time for club decision-makers.  Grigson notes the salary cap situation is snug.
"We're going to be a lot better off a year from now," said Grigson.  "There are some challenges ahead fiscally, but we'll do our best to keep the talent here."
Both Grigson and Pagano are queried at each opportunity about returning veterans.  Each has spoken about the desire to keep key components in place when possible.  At the combine, they spoke again about the situation facing the club.
"We're going to do our best to keep everyone we can here.  We've chipped away at one big thing after another, and we're going to try to do our best to keep the talent in-house," said Grigson.  "Like I said when I first started, I'm not here to just blow the place up.
"I have evaluated everybody, and I think there's a lot of talent here.  We just have to find out a way and how to best manage it.  Do what's best for the organization moving forward."
Pagano noted the importance of the tag-team presence of Pro Bowl defensive ends Dwight Freeney (102.5 career sacks; 43 forced fumbles) and Robert Mathis (83.5 sacks; 39 forced fumbles), the two top sack producers in franchise history.  Each is a multiple Pro Bowl performer.  Freeney is under contract, while Mathis is not.
"Without talking about numbers, I just know those guys have been game-wreckers for a long time," said Pagano.  "I know offenses have to account for both those guys.  We're going to make sure that we put both those guys in positions to make plays.  I don't think it would be very smart on my part or anybody else's part to not make sure that doesn't happen.
"Both those guys are great players.  They have been great players here for a long time.  Those guys are Colts through and through.  We fully expect to have them here for as long as we can."
Grigson and Pagano each have work to do this week at the Combine.  The NFL year starts on March 13, when teams must be in accordance with cap matters.  The draft arrives in late April.  Evaluations will continue along those timelines.
"You just have to let the process handle itself," said Pagano.  "We all know when free agency begins.  We'll just continue to do our due diligence and evaluate the roster, evaluate every player on the roster.  We'll go through this Combine look at all these players.  Go through the draft and at the end of the day, see how things shake out."