INDIANAPOLIS — The Indianapolis Colts (7-6) and Dallas Cowboys (8-5) have a huge matchup together this week at Lucas Oil Stadium. The Colts sit in the seventh spot in the AFC playoff race, one spot out of the final wild card spot with three games remaining. The Cowboys, winners of five straight games, sit atop the NFC East standings in the fourth spot in the NFC playoff race.
The Colts just took out the hottest team in the league last week when they defeated the Houston Texans, 24-21, who were on a nine-game win streak at the time. This week, they take on who many consider the league's new hottest team.
Let's take a quick dive into the Cowboys.
LAST WEEK
The Cowboys had an exciting, late-game victory over NFC East rival Philadelphia Eagles last week, defeating the defending Super Bowl Champions, 29-23, in overtime.
Dallas accumulated 32 first downs from a whopping, season-high 576 yards of offense on 93 plays (6.2 avg). They converted 10-of-19 third downs (52.6 percent) as well as went 1-of-1 on fourth down.
Quarterback Dak Prescott went 42-of-54 passing (77.8%) for a career-high 455 yards and three touchdowns as well as two interceptions. Wide receiver Amari Cooper, whom the Cowboys traded for in Week 9 and has been occasionally dominant, caught all three of Prescott's touchdowns (including the game-winner in overtime) and accumulated 217 yards.
Running back Ezekiel Elliott ran for 113 yards on 28 carries (4.0 avg), his seventh 100-yard game of the season and the 19th of his 38-game career. Elliott also caught 12 balls for 79 yards (6.6 avg) for a grand total of 192 yards.
The Cowboys' staunch defense yielded just 256 yards of offense to the Eagles on 48 plays (5.3 avg). Philadelphia could only muster 1-of-9 on third downs (11.1 percent), but were 1-of-1 on fourth down.
Eagles quarterback Carson Wentz went 22-of-32 passing (68.8 percent) for 228 yards and three touchdowns with no interceptions, but he was sacked twice. Wentz's leading receiver was Alshon Jeffery, who caught six passes for 50 yards (8.3 avg) and a touchdown.
Worse off was the Eagles' run game, which was held to 34 total yards on 14 carries (2.4 avg). Rookie Josh Adams led the way with seven carries for 36 yards (5.1 avg).
THIS WEEK
It will be tough for Dallas to slow down quarterback Andrew Luck and the Colts' passing game, but it will be a stiff test for the reigning AFC Offensive Player of the Month, who is averaging 314.4 passing yards per game over the last five games.
Dallas has only allowed three opposing quarterbacks to pass for at least 300 yards this season, and it's only happened once since Week 5.
Partially due to the flow of games, the Colts have been unable to get running back Marlon Mack and the run game going in high fashion for the last several weeks. After eclipsing 200 yards rushing in Weeks 7 and 8, the Colts have run for 100 yards just twice since then. Dallas is one of the best teams in the league against the run, so it will be interesting to see if the Colts can establish themselves on the ground.
The Cowboys have some great, young talent on defense that the Colts will be battling with, featuring defensive end DeMarcus Lawrence and linebackers Jaylon Smith and Leighton Vander Esch. They have some impressive, young cornerbacks as well in Byron Jones, Chidobe Awuzie, Anthony Brown and Jourdan Lewis.
Defensively, the Colts have one huge target to focus on first and foremost: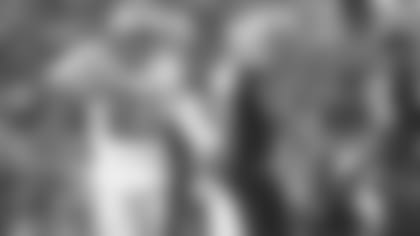 Elliott has been a dominant force since stepping into the league, as we mentioned earlier that he's rushed for at least 100 yards in half of his career games.
If we're really getting specific (and a little bit ridiculous), then Sleeved Zeke is like the football version of the NBA's Hoodie 'Melo. What am I talking about? Many players believe in the motto, "Look good, play good." Since switching it up and wearing full sleeves in Week 10, Elliott has been on fire, averaging 31.0 touches for 171.6 yards from scrimmage and scoring five touchdowns in those five games. Coincidence? Yeah, probably.
This should be another busy game for Colts linebackers Darius Leonard, Anthony Walker and Matthew Adams, who will likely rack up a good amount of tackles in the likelihood that Dallas uses Elliott at a high volume.
Another thing that has more likely benefited Elliott is the arrival of Cooper, providing an outside threat at receiver for the Dallas offense. In six games with his previous team, the Oakland Raiders, Cooper averaged 3.7 receptions per game for 46.7 yards (12.7 avg) and caught one touchdown. In his six games with the Cowboys, he's averaging 6.7 receptions for 107.0 yards per game (16.1 avg) and has six touchdowns.
Colts cornerbacks Kenny Moore II, Pierre Desir and Quincy Wilson have been playing at a high level lately, keeping receivers like DeAndre Hopkins, Demaryius Thomas and Corey Davis in check. Cooper will be their latest test.
The Colts' defense will also need to account for Prescott on the ground, as he has run for 303 yards and five touchdowns this season.
2018 KEY STATS
1st in time of possession (32:22)
6th in rushing offense (132.3 YPG) and 8th in rushing attempts per game (28.5 avg)
Tied for 9th in fourth down percentage (64%)
23rd in scoring (21.2 PPG)
25th in passing offense (218.3 YPG)
29th in pass plays of 20-plus yards (33)
30th in red zone offense (46.3%)
32nd in sacks allowed (48)
2nd in scoring defense (18.9 PPG)
3rd in run defense (86.8 YPG) and tied for 1st in yards per carry allowed (3.6 avg)
4th in total defense (313.4 YPG)
4th in red zone defense (48.7%) (1st on the road [36.8%])
9th in pass defense (226.5 YPG), 5th in pass plays of 20-plus yards allowed (33) and 29th in pass completion percentage allowed (68.8%)
26th in third down defense (41%) and 2nd in fourth down defense (33%)