 ](http://careyindiana.com)
INDIANAPOLIS – Ryan Fitzpatrick has started for four teams during his nine NFL seasons.
While he was brought to Tennessee this year in a backup role, Fitzpatrick has done well enough in two recent starts to keep playoff hopes alive for the Titans after Jake Locker suffered hip, knee and foot injuries that ended his year.
Fitzpatrick's third start in 2013 was two weeks ago against the Colts, and he had the club's attention then.
"You're playing against a good quarterback.  Once upon a time, he was a starting quarterback," said Ricky Jean Francois.  "I know most people might look at him as a backup quarterback, but he's a starting quarterback.  He's a good one, too."
After two-year stints with St. Louis and Cincinnati to open his career, Fitzpatrick spent 2009-12 with Buffalo.  He opened 53-of-55 games with the Bills before being released after a 20-33 starting record.
Fitzpatrick started for Tennessee in weeks four and five when Locker first got hurt.  He relieved Locker against Jacksonville one week prior to meeting the Colts two weeks ago, and he has flourished.
"Good football player, smart, does a great job," said Chuck Pagano.  "He's athletic enough to extend plays, makes all the reads, has the arm talent to beat you.  Ryan's done it and done it for a long time and won games."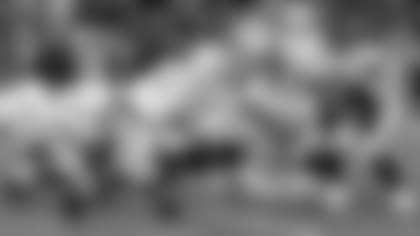 Fitzpatrick was 22-of-28 for 222 yards and one touchdown in the Colts' 30-27 victory on November 14, leading two opening scoring drives and closing with another as the divisional battle lasted 60 minutes.
Last week at Oakland, Fitzpatrick hit 30-of-42 for 320 yards and in earning a 13th career 100-plus rating game, he drilled two second-half scoring passes in a 23-19 victory.
The Titans rallied from three deficits in the victory, and Fitzpatrick's 10-yard strike to Kendall Wright with 10 seconds left decided the matter.
"As a backup, you're the least important guy in the building until they need you, then you're the most important guy in the building," said Fitzpatrick.  "It's a very interesting job, but one that I enjoy, for sure."
With a 71.8 completion percentage (74-of-103) and a 5:0 TD:interception ratio over the last three games (110.7 rating), Fitzpatrick has been one reason Tennessee harbors legitimate playoff hopes.
"The key is he's playing confident.  He looks confident," said Mike Munchak.  "His body language is confident, a lot different than earlier in the season.
"I think knowing that it's his team to get into the playoffs.  When he came in (against) Jacksonville, (he) has played very well, has made really good decisions.  Last week he played well.  We need that kind of play if we're going to have a chance to win a game like this this weekend and moving forward."
Munchak estimates receivers dropped a number of passes in the first meeting with the Colts, thus Fitzpatrick's numbers could have been greater.  He also feels repetitions have produced fluency for Fitzpatrick with receivers.
"He and the receivers are really getting on the same page as far as how they look at things, how they look at coverage," said Munchak.  "He's a guy that that's why he's here.  We're lucky to have a guy like him in the backup role that can win football games for us."
Fitzpatrick and the Titans were able to close the game successfully last week at Oakland, and they want to build on the growth that is evident.
He will be starting his third game against the Colts in two seasons and has seen how closely-contested the series is with recent battles swinging to Indianapolis' favor with late comebacks.
"The last three games we've played against them we've been ahead in the first half and they have come back and beat us," said Fitzpatrick.  "There's a lot of new guys that unfortunately experienced that a few weeks ago, me included.
"We've got to go out there and play 60 minutes (against) a tough, tough opponent, obviously someone that we're looking up at in the division.  This is a real big game for us for plenty of reasons, but one thing that they're on top of our division right now.  We've just got to continue to build on what we've done the last few weeks."