 ANDERSON – The Colts reported to Anderson University Saturday for the start of training camp.  It is the fourth straight year the Colts have called the campus their summer home.
Players started arriving mid-morning and by noon, the majority was on hand.
This time last year there were a lot of people who were getting their first-ever taste of training camp with the Colts.
Head Coach Chuck Pagano was one such person as he headlined a team that was coming off a 2-14 season that ushered the departures of many household names.
The Colts went 11-5 in 2012 and created new heroes and while there traditionally are new faces each training camp – right now 38 with Indianapolis – there is a greater familiarity with the playing roster for Pagano.
"The unknown is not as big (as last year)," said Pagano, referring to personnel.  "It's a little bit easier to look at the roster and say (by units), 'Good, good, good, good…'  There is a lot more certainty (this year because of that veteran nature) than uncertainty."
Indianapolis had rookies start a total of 56 games last year, the second-highest NFL total.  People brought together produced, and that included a coaching staff with 17 new members.
Just as the roster is more intact now, so is the coaching staff.  Only four assistants are new, but two of those are coordinators – Pep Hamilton (offense) and Tom McMahon (defense).
Pagano is energized by their additions and expects their contributions in helping the team be better.  It is something he expects from players as well.
"We had so many young guys make contributions and do well as rookies.  They made great contributions," said Pagano.  "Having a year under their belt, we look for them to be even better.
"Having the veteran leadership we have (is good).  Guys know what it takes to be a pro.  Having that leadership in the locker room is important.  It's the most important thing you have going.  If the locker room is right and has the right leadership and guys can keep it tight, you can have great seasons and we can replicate and do better.  We expect to do better."
Keeping memories alive as it pertains to last year's accomplishments was something far from the minds of players reporting for a new season.
"I think the past is in the past as soon as this last season was over," said Coby Fleener, who starts his second year.  "This is a brand new year for us, a fresh start and a whole new team."
Veteran players unanimously voiced the same approach.  Jerrell Freeman topped the team in tackles after being a free agent addition.
He comes to camp with the same mindset as last year, one that Pagano will like – a player who remains driven.
"(I approach this) like I did last camp," said Freeman.  "I always keep that mentality of underdog, free agent.  Nobody expected too much out of me.  I definitely keep that same mentality, going out there and learning as much as I can, being a sponge.  I still learn from the coaches.  I have a lot of growing to do."
Linebacker Pat Angerer and defensive tackle Fili Moala have been put on the physically unable to perform list.  They count on the 90-man roster and can be activated at any time.  They join running back Ahmad Bradshaw on the list.  Bradshaw was placed on it last week.
Never mistake fun for not being serious.  Reggie Wayne's dramatic camp entrance today via helicopter should not obscure his work ethic.  He is a baller.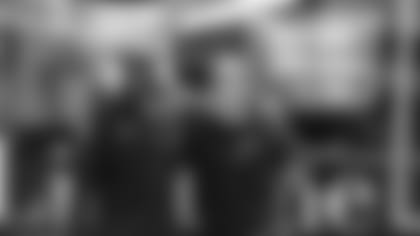 Wayne's annual camp entrance always draws a crowd.  Whether it's with Army Reserves, wearing a jersey of a departed teammate (wearing an Edgerrin James jersey in 2006; it was James who initiated fun entrances to camp), wearing camouflage gear (2007) or in construction garb ("Wayne Construction"), Wayne is ready to work.  As the longest-tenured Colt, he is evidence the program is built from the ground up.
Colts coaches Tony Dungy, Jim Caldwell and Chuck Pagano can tell you about Wayne's integrity.  So can all Colts fans.  Camp is a time for work.  Wayne will help lead the charge, but one does remember the old phrase from a movie, "They say, play ball."
There was no practice on reporting day.  The first practice open to the public is 1:50 p.m. Sunday.  There is a closed morning walk-through session.
Chronologically, name the Colts' head coaches who brought teams to Anderson University for training camps.  See tomorrow's Colts Camp Notebook for the answer.
"I have not.  I've heard about him, read about him last night.  Robert Mathis brought him to my attention last night.  I guess we got our real own Bobby Boucher." – Reggie Wayne if he had heard of the signing of linebacker Daniel Adongo.
Every place at training camp has a specific smell. Triggers some kinda response in my brain to immediately put me in camp mode. Giggity – Anthony Castonzo.
Sunday's practice session is 1:50 to 4:30 p.m.
The weather in Anderson on Saturday was cloudy most of the morning, but skies were partly sunny with a high of 75 degrees in the afternoon.  Dry and cool temperatures Sunday morning should reach around 70 degrees for the public practice.  Rain is not expected.