I always start my day off with a coffee or tea to wake myself up for the day! Today I headed to work and continued my training.  I just recently accepted a new position and have been training with my direct manager to learn how to complete the wide variety of tasks that my job entails.  After work I headed to the gym to get a quick workout! I ran a couple miles and did some abs to tone up my core.  After that, I headed home to my two beautiful roommates, Lindsey F. and Ann B, who are fellow squadmates!  We had our normal chat session in our kitchen as we all made dinner, catching each other up to speed on our lives.  These two girls have become best friends over the years and living with them has been an absolute blast! I couldn't ask for better girls to live with!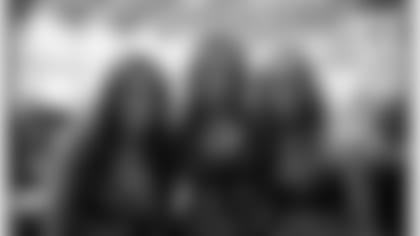 My morning routine had an extra task involved this morning, as it does every Tuesday.  I packed my bag for our regular Tuesday practice at the complex.  On Tuesdays, I go straight from work to practice so I make sure to pack our practice attire, poms, jazz shoes and enough snacks and drinks to keep me energized throughout the day and practice.  Since I work and live in Carmel, Lindsey and I alternate driving to practice.  Lindsey picked me up from work today and we had a nice jam session in the car on the way there.  You know you're best friends when you are singing Justin Beiber "As Long As You Love Me" at the top of your lungs together!  ;) Practice was very productive tonight! We reviewed all of our dances for the upcoming game against the Buffalo Bills including my favorite pre-game performance "Pour Some Sugar On Me".  Practice ended very special tonight.  One of our cheerleaders, Megan M., initiated a challenge a couple weeks ago. If she could raise at least $10,000 towards Leukemia research, she would have Blue shave her head at the game on Sunday.  In support of Megan, our squad pulled together to shower her with hats, scarves and jewelry to wear once she had her head shaved.  Megan was overwhelmed with all of the love and support! It was a truly beautiful moment.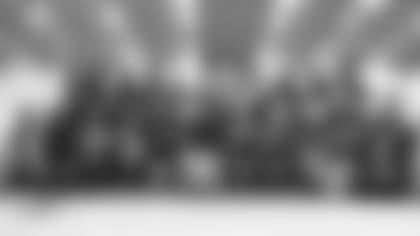 I was antsy all day today because I knew I would get to see my family and friends that afternoon!  Work went great today and I eagerly packed up my things and prepared for the journey back to my hometown Delphos, Ohio.  My boyfriend Keith came back to Ohio to spend Thanksgiving with my family. This is our first Thanksgiving together and we were both very thankful to be able to spend it together!  We headed straight to the main street in Delphos to stop by my sister's new photography studio.  My sister started Heather Marie Photography almost a year ago and is absolutely blowing the world away with her natural talent.  We had a great night at her studio catching up with close family and friends that were in town for the holidays.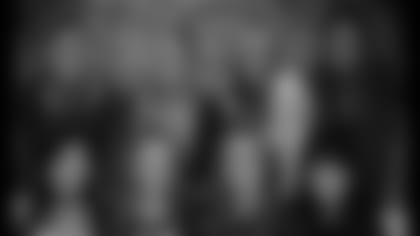 Happy Thanksgiving! Today we planned on spending Thanksgiving with the Pohlman side of the family at my Aunt and Uncles' house.  We have a tradition of calling our relatives in Phoenix, AZ every holiday and this Thanksgiving we decided to spice it up a little bit.  We set up a time to Skype them so that we could actually see them as we talked!  Last Christmas when we had a Skype session, we were surprised what we saw when they answered the call.  They were all decked out with funny Christmas attire (Rudolph noses included).  We were rolling with laughter when we saw what they had done! This year, we decided to get them back by making Indiana hats to be wearing when they answered our call.  They were pleasantly surprised when they saw how festive we had gotten! At one point during the night we even tried square dancing in the basement.  It was a disaster since none of us had actually learned proper square dancing methods.  We attempted to learn off of Youtube but didn't have much success.  We just ended up laughing the entire time which made for a great memory.  After a fabulous dinner of turkey, mashed potatoes, casseroles and desert, I was stuffed!  It was a very memorable Thanksgiving and I couldn't be more thankful for all of the beautiful people I spent it with.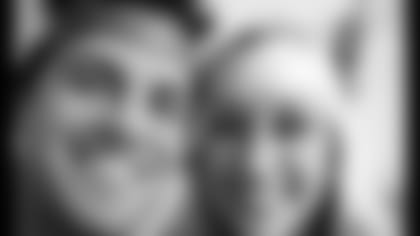 Keith and I drove back from Ohio late last night since we both had to work today so I was a little tired this morning.  With it being Black Friday, I had a very busy and eventful day today!  I work with some of the most incredible people.  They are always bright and cheery when I come into work and I feel blessed to be able to come to work each day and have a job that I enjoy.  After work I headed to LA Fitness to get a nice hard workout in before the big game this Sunday.  Once I was finished with that, I headed home only to shower and crash.  I think I was still full from my Thanksgiving dinner from the day before!
I don't normally work Saturdays, but with the busy weekend I headed into work as scheduled.  It was another very busy day that was spent meeting great people!  After work today, all of the staff headed to our bosses house for a company Christmas party!  It was nice to finally meet some of my fellow employee's husbands, wives, and significant others.  Everyone was really nice and we all enjoyed an awesome steak dinner catered from Ruth Chris (My favorite!) At one point during the night I was asked to teach some of them how to do the famous "Gangnam Style" dance that we do at home games! We then played a funny game of White Elephant to wrap up the evening as well as took a company photo.  I headed home early to pack for the big game tomorrow!
Happy Gameday! I headed to the stadium with my two roommates around 5am this morning.  We have to be in the locker room by 6am so we make sure we give ourselves plenty of time to get there.  Once we arrived we get settled into our lockers and prepared for our field practice.  We practiced today from 6:30am – 8:00am.  We got done fairly quickly which made it nice to head back to the locker room to relax and eat breakfast.  Every gameday they cater a nice breakfast and lunch for us.  I started to get ready for my appearances around 9am.  Tyler Mason, the official hair salon and spa of the Colts Cheerleaders, have a room set up in our locker room with several stations to get hair and makeup done. Once I finished at hair and makeup, I headed up to the concourse escorted by our security to sign autographs with fans for 30 minutes. It's always my favorite to interact with the fans up close and personal.  After my appearance, we had a very special visitor named Gracie come to our locker room.  Gracie is a little girl with big dreams of being a Colts Cheerleaders someday.  Gracie suffers from an undiagnosed neuromuscular condition.  Her visit was really special. Meeting little girls like Gracie is just one of many reasons I love doing what I do!  Her story has touched my life and I was thrilled to have been able to meet her!
The game today was very eventful and emotional.  As most of you know, we had 2 very courageous girls do something very heroic today.  In honor of people all over the world suffering from leukemia and other forms of cancer, cheerleaders Megan M and Crystal Anne B shaved their heads today in front of the thousands of people in the Lucas Oil Stadium.  Crystal Anne is a leukemia survivor who decided this morning to get her hair shaved as well! Because of Megan's initial challenge over $20,000 was raised for Leukemia research. That's twice as much as the original goal! It gave me chills to watch them do something so courageous.  I am part of a squad with some really strong and amazing women.  I am so proud of them both!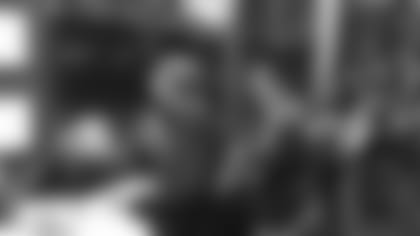 Thanks for letting me share my week with you all! See you on gameday!
Happy Holidays! Go Colts!