 ](http://careyindiana.com)
INDIANAPOLIS – Matt Bouza signed with the Colts as a free agent in 1982 after having a brief stay with San Francisco in 1981.  Bouza played seven full seasons with the Colts before appearing in two games near the end of the 1989 season.  Bouza was a consistent presence in the Indianapolis offense, and he had 234 career receptions for 17 touchdowns.  His top season was in 1986 with 71 receptions for 830 yards and five scores as he provided veteran savvy to a young Colts offense that featured a rookie quarterback in Jack Trudeau and a rookie receiver in Bill Brooks.  Bouza was one of the most popular Colts in the team's early years in Indianapolis.  Bouza looks back on his career:
Who was the opposing head coach you least liked to face?
Don Shula.  His teams were always so well prepared.  It seems like they always had good players, but Coach Shula and his staff were thorough in their approach.
What was your favorite road stadium to play in and why?
The old Cleveland Browns' Municipal Stadium (click here).  The "Dawg Pound" was brutal there.  I loved it because the fans were so crazy.  It was not uncommon to get hit with a dog bone.  Still, you love passionate fans, and Cleveland had them.
What opposing player did you respect the most and why?
Mike Haynes.  He was a Hall of Fame cornerback who I was matched up against in my first NFL start in 1982 against the Patriots in Baltimore.  Talk about a challenge in this league right out of the box, I had one.  Ironically, Ron Meyer was their head coach.
Who was the NFL player you wanted to meet the most before you made the league and why?
Fred Biletnikoff (click here), the Hall of Fame Raiders wide receiver.  I grew up watching him when I was a big Raiders fan growing up in Northern California.  He was retired by the time I got in the league, but I always thought he was the ultimate "route runner with superb hands."  TV coverage of football back then was more primitive that today, but I remember them focusing on him because of his ability and how he was in sync with the quarterback, usually Daryl Lamonica.
What was your most memorable Colts game and why?
It was our game in the Meadowlands against the Jets in 1987.  We won, 19-14.  It was the first game after we traded for Eric Dickerson, and Albert Bentley had a big day. It was electric to have a back of Eric's caliber on the field.  I also scored a TD on a flea-flicker.  I secured bragging rights that year with my friend, Ken O'Brien, the Jets' quarterback.  We attended high school together in Sacramento.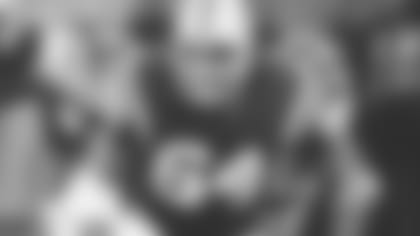 Who was the toughest teammate you had and why was he the toughest?
Ben Utt.  Like me, he was an undrafted free agent (from Georgia Tech) who proved the scouts wrong. He started for us for many years and was an excellent, tough-as-nails competitor, who played regardless of being hurt.  For an offensive lineman, he was pretty smart, too, which is a very rare thing.
What was the hardest thing you ever had to do in a game?
It was to throw a crack-back block from the wide receiver position on Matt Millen, the linebacker from the Raiders.  I felt like I hit a Mack truck.  He probably barely felt anything.  You had to carry out your assignments, and that was my toughest.
What was the hardest thing about playing on the road?
Actually, nothing. I felt it was easier to focus and enjoyed being on the road.  Traveling after the game and arriving home early in the morning was probably my biggest complaint, but it had nothing to do with competing in a hostile arena.
What was your favorite road win?
I liked our 1987 road win against Cleveland in December.  It was a tough game, which we won, 9-7, and it propelled us into the playoffs that year.  It was bitter cold that day, and I felt I had a good day against their two tough corners, Hanford Dixon and Frank Minnifield.  I can remember seeing them motion to the crowd for noise, which was against the rules then.  It was a classic day in an old stadium, and we felt very pleased with the outcome.
What did your jersey number mean to you?
Once you earn a spot on an NFL roster and are awarded your number.  Mine was number 85.  It seems to become your identity. To this day, I love that number.  The team signed me to finish the 1989 season and some people may not remember that.  Andre Rison had number 85, so I couldn't get it.  I had to wear number 87, and I have a picture with Barry Krauss to prove it.
If you didn't wear your favorite number, what number would that have been and why did it mean something to you?
Probably number 10.  That was my number in college at Cal-Berkeley.  I loved having a so-called quarterback number.  Number 10 has always been one of my lucky numbers.
What was the most fun thing about training camp?
I would say the anticipation of the start of a new season as well as seeing your teammates.  Back then, you didn't see them much after a mini-camp in May.  There was catching up to do.  Not much else was fun, though.  I usually dreaded that time of year, and camp lasted about five weeks.  It ended your summers early.
What was the toughest thing about training camp?
It was an absolute grind.  From the start of camp, with all of the conditioning testing, to the double-practice days, it was a physical and mental challenge.  To this day, in the business world, I reference back to how really tough it was when I think I'm having a rough day!  Nothing in my life has compared since then.
What advice would you give to players heading into the NFL?
First and foremost, it is an absolute privilege to play in the NFL.  I think players take things for granted.  Also, your career goes by in the blink of an eye, so you have to take things slow and savor the moments.  My last bit of advice would be that no matter how good you are, you can always be replaced, so keep your perspective.
When was the loudest you heard the RCA Dome or Lucas Oil Stadium and what was the circumstance?
It was in 1987, our last home game against Tampa Bay where we locked up the AFC Eastern Division title.  We won, 24-6, and the fans went absolutely nuts.  They had been through three pretty lean years with us, so you can imagine the emotion. It was a great celebration for them and us.  We had come a long way.
What was the best prank you played on a teammate?
It was putting quarterback Art Schlichter's equipment by the pay phone in Baltimore's locker room.  Moving his gear there was a classic.
Who were the best pranksters among your teammates?
George Wonsley a running back during my time was hilarious.  He was always up to something. His laugh was infectious, and I loved listening to his berating of the rookies on the team.
What was the best overall prank you saw pulled?
This may not be considered a 'prank' but the Coke incident when wide receiver Holden Smith poured a drink over Frank Kush's head during lunch in training camp in Baltimore in 1982 was an absolute classic.  Unfortunately, following that scene, Coach Kush didn't look favorably towards any alumni from Cal-Berkeley after that one.  It certainly didn't enhance my standing with him.  I heard the Raiders picked up Holden just to hear the details of the event, then cut him.
Which of your head coaches gave the best pre-game speech?
Ron Meyer.  He pulled out some classic one-liners, like, "Play like a rolling ball of butcher blades," or, "We're gonna capture lightening in a bottle."
Do you have a favorite quote? If so, what is it and why does it mean something to you?
Mine is, "The difference between a successful person and others isn't a lack of strength, not a lack of knowledge, but rather a lack of will."  It's from Vince Lombardi.  It simply means that you can attain anything, if you truly put your mind to it.
What is the best college uniform and why?
The University of California at Berkeley.  Period.  Blue and Gold home uniforms with the yellow Cal helmet script on the blue helmet.  Watching my son now wear it during his years at Cal is fantastic.
What is the best NFL uniform (other than the Colts) and why?
The Green Bay Packers home uniforms.  Great color scheme along with great tradition.
Who is the opposing head coach(s) you find always had his team prepared the most thoroughly?
Don Shula and Bill Walsh (click here).  I think both coaches did outstanding jobs, and they kept their teams playing well for long periods of time.  That is the mark of a really good coach.
If you could have played under any head coach in history (even beyond the NFL) for whom you didn't play, who would it be and why would you want to play for him?
Bill Parcells (click here).  I always like his blue-collar, no-nonsense approach to football, and I always got the feeling if you busted your butt for him he would reward you. He was a black-and-white guy who called things the way he saw it.
What is your all-time favorite stadium (not necessarily in the NFL) and why?
Mine is Memorial Stadium in Baltimore.  The history of the teams and players that were on that field made it special – Johnny Unitas, John Mackey and Raymond Berry. Those were some of the guys who made the NFL what it is today.
What is the greatest sporting event or individual performance outside the NFL that you saw in person?
My first Indianapolis 500 in 1986.  I've been a huge fan ever since.
What was your favorite team growing up and why?
Being from Northern California, I always loved the Oakland Raiders.  They were all larger than life characters – Ted Hendricks, Kenny Stabler, Jack Tatum.  They were modern day pirates.  I always also admired Al Davis for challenging the authority of the NFL.
Who was your favorite NFL player growing up and why?
Fred Biletnikoff.  I loved the 'stick-um' he had all over his socks and forearms.  His route-running was perfection, and he caught everything.  People said he was too small and too slow, but he ended up in the Hall of Fame and being a Super Bowl MVP.  He just kept the chains moving.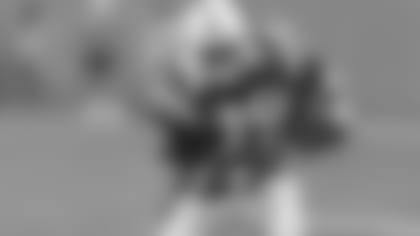 Who is the best pure athlete you have had as a teammate in Indianapolis?
Eric Dickerson, a pure thoroughbred.  I've never see a running style like his, and I don't think we ever will again.
Was there a person you wish you could have met during your career that you didn't get to meet? If so, who would was that and why did you want to meet him?
Al Davis.  I always thought it would be cool to discuss football with a guy like him.  Some of my friends who played for him say he was a tremendous owner to play for and really understood the game.
What do you remember the most about Colts fans?
Both the Baltimore and later the Indianapolis fans treated us the best.  They gave full support although when we moved to Indy, it took them a while to understand you don't yell when the offense has the ball!  They have grown into very smart fans, and they've maintained their loyalty.
Please describe what you currently are doing and where you live as well as any family information you wish to include.
I currently reside in Lafayette, California, a suburb of the San Francisco Bay Area.  I have been blessed with four beautiful children who have grown up to be terrific people.  Three of my four children were born in Indianapolis during my career with the Colts, so the state of Indiana is still very special to my wife and me.  Marianne, and I just celebrated our 29th anniversary.  My three daughters are in the working world, Jordan, my oldest works in the fashion business in Los Angeles. Carly, one of my twin daughters works at Dreamworks in Redwood City and Alex, my other twin, works for a start-up business in the East Bay.  My son, Jackson, is a senior at UC Berkeley and is a wide receiver on the football team, playing for new head coach, Sonny Dykes.
I am currently VP of Sales for the orthopedic division of Johnson & Johnson, DePuy Orthopedics in Northern California. I have been in the medical device business for over 20 years now.  Go Colts!