As an actor, Drew Powell's job takes him all over the world. And the Indiana native represents the Coltswherever he goes.
"I've been a Colts fan since they moved. I was a little kid when they packed up that Mayflower and moved over here, so I've been a lifer," he said. "And it's funny because I've lived in L.A. and New York now for my whole professional life and I'm usually the only Colts fan people know. So, I've really had to represent in Los Angeles and New York."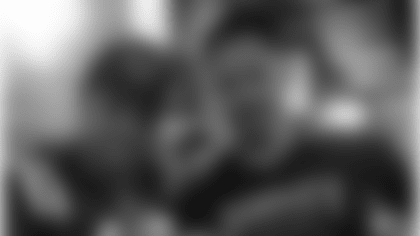 Powell grew up in Lebanon, Indiana and went to DePauw University. He followed his dream of acting out to L.A. and landed roles in "Malcolm in the Middle," "Ponderosa," and currently stars in the Batman prequel "Gotham," which makes its season four debut on FOX September 21st.
"When I graduated college, I had spent all my life in Indiana to that point. I was ready to get out – you know, see the world. It was good. I spent time in Australia shooting a show down there and I've been all over with my job. What I realized is with every passing year, I appreciate coming back to Indiana more and more."
Now, he tries to return as much as he can, on average about every other month.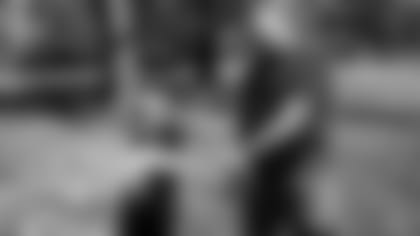 "Especially now that I have a little boy because we live in a two bedroom apartment in New York and as a Hoosier, I'm all about making sure he has time out by the cornfields and out with his cousins playing in the backyard – he needs that."
"So, your homes are in L.A. and New York, but your heart is here?" I asked him.
"I want you to put that on a poster and I want to put that in my house because you could not have said it any better," he responded. "I woke up this morning, had a coffee and sat in my parents' backyard and listened to the crickets and saw the sun rising. And this sounds fake, but it's true – there's a rooster next door. And I'm like, 'This is great. I need this in my life right now. And then I can have the strength to go back and face the throngs of people in New York City.'"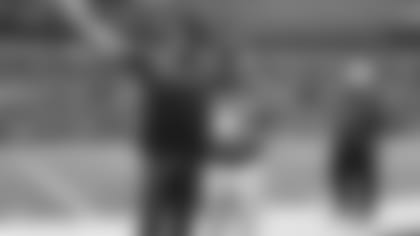 On Sunday afternoon, Powell stood on the field at Lucas Oil Stadium before the start of the Colts game with his dad, Jim, a retired reverend.
"My dad is my hero, both my parents are," he said. "He spent his whole life helping and supporting and serving other people. Any time I get to do something nice for him, it's the best."
And being surrounded by Colts fans was a refreshing change for Drew.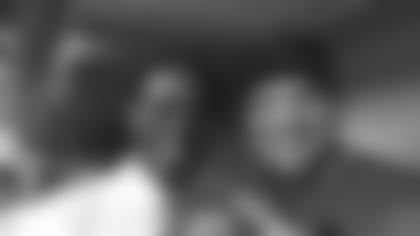 "This is only my second time in Lucas Oil. The first time was when they played the Patriots on a Sunday night and Belichick went for it on fourth and two and we stopped it. Matt Stover gave me his tickets. That was the year he was kicking for them and I was here and this place was electric."
Just like many of the players warming up behind him, standing on the field on game day was a surreal experience. But Powell understands, perhaps better than most, what it took them to get there.
"My friends that are professional athletes and I talk a lot and there is a very similar path in being an actor and being an athlete. It's something that a lot of people would love to do, but it's also something you have to put in a lot of hard work and you have to have a certain set of skills and gifts to be able to do it."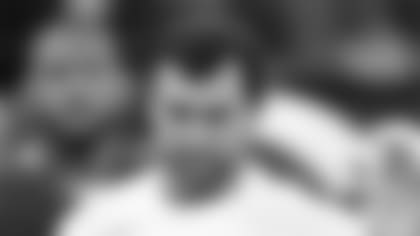 On Sunday, Powell had a goal – to become best friends with quarterback Andrew Luck. It's a role he's spent years preparing for.
"I've been reading his books in his book club," he said. "I like soccer too – I married a British girl, so we can talk soccer."
He may even have a role for Luck on "Gotham."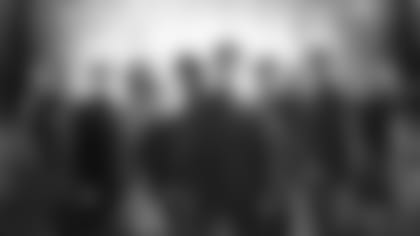 "I feel like he could be Bruce Wayne's uncle. Like he was off in the North – that's why he has his beard. But now he's back and he's going to teach you how to throw the batarang because he's got a great arm."
As for Powell, he's not a football player – but he did play one in a movie once.
"I did a football movie about six years ago with Kurt Russell called 'Touchback,' available wherever you find films and DVDs. In the movie, it starts out present day and then we go back in time to our high school senior year of football."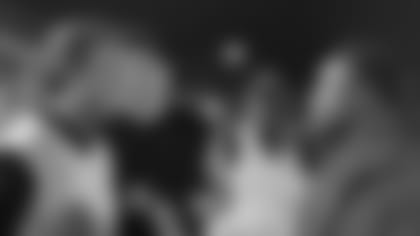 It also involved some manscaping.
"I was five years younger, but I certainly didn't look like I was 18. So, they made me take off my chest hair. They said, 'You've got two choices – you can wax it or Nair it.' And so, I naired it. I'm in the hotel room in Grand Rapids, Michigan nairing off my chest hair," he said. "I had to tip that maid."
Indiana is a long way from L.A., both in distance and in culture. But today, that's exactly what Powell appreciates about it.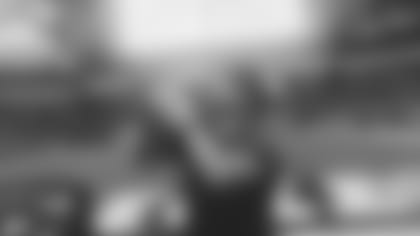 "Somebody said it – it's like a touchstone. And that's exactly right. I need to come back to my touchstone and have a minute."
Football is family. And Drew Powell is part of the Colts family.
He takes his team with him wherever he goes.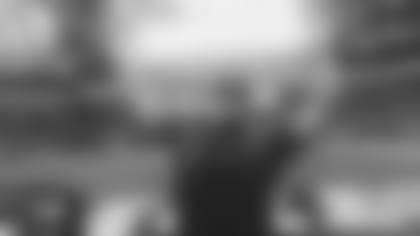 And for three hours every Sunday, they give him a way to reconnect with his Indiana roots.